A showcase of boundary-defying cinema by Black filmmakers
Presented in collaboration with Photodom
1717 Broadway Brooklyn, NY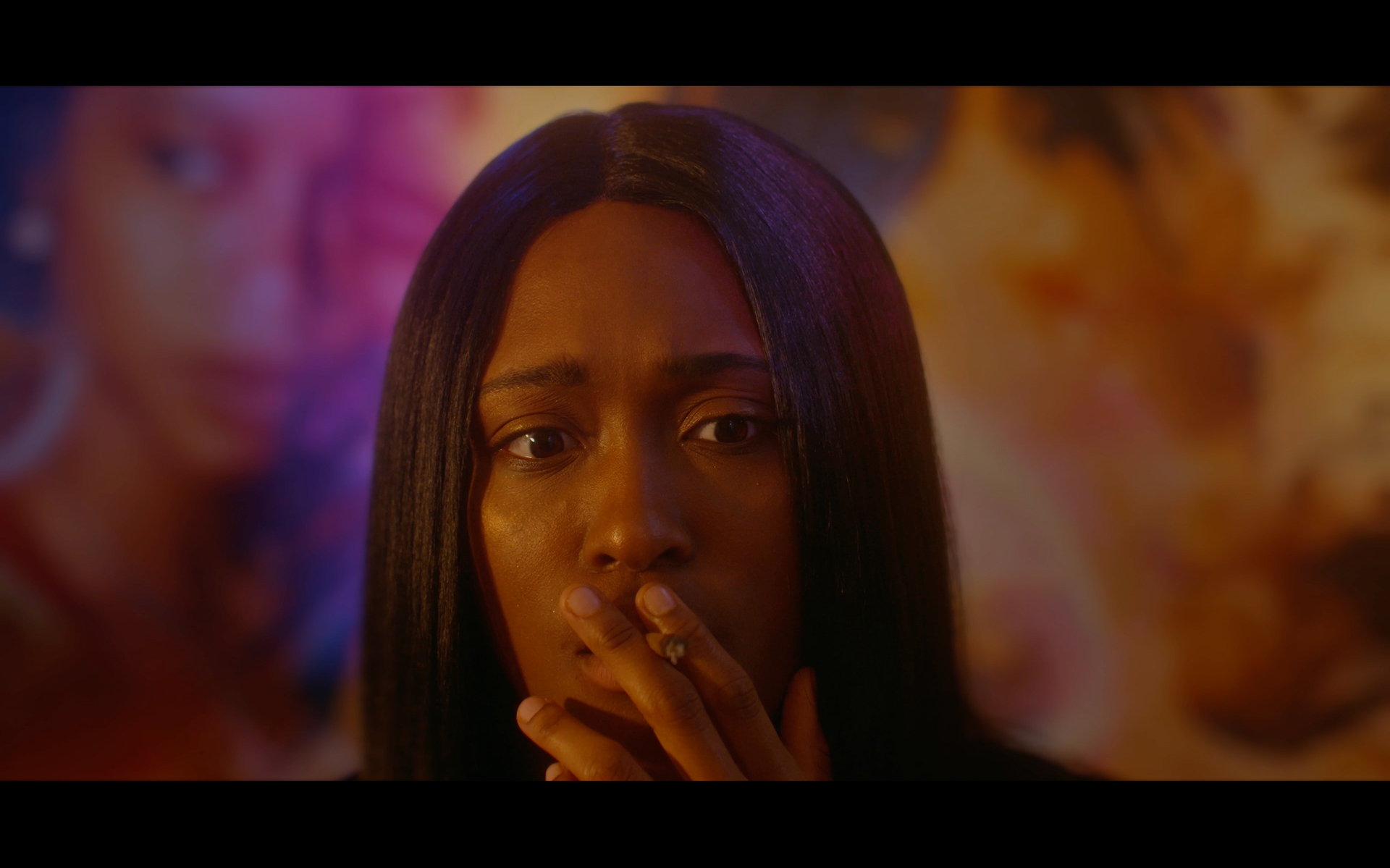 Next Stop is a surrealistic dark comedy following a woman's return back home.
Chanel Dupree is an award winning screenwriter & director based in Brooklyn, NY. Her film, "Next Stop" has entered over nine film festivals, earning her "Best Female Director" in 2022. Chanel Dupree is the winner of Spec That Scene, recipient of BRIC Screenwriter Lab and finalist of 2021 Women Write Now.
An Independent Movie About A Young Artist
A young artist struggles to make a movie about a young artist who struggles to make a movie. "An Independent Movie About a Young Artist," is a meta breakdown on the tropes of slice-of-life indie filmmaking.
Zenzelé Soa-Clarke is an interdisciplinary artist and chronic good-time-haver from South Florida, now based in Brooklyn, NY. Their art and films explore existential themes and the nuance of interpersonal relationships.
This body of work serves as documentation of Black folks and its communities moving through time and space.
Logan Lynette Burroughs is a photographer and filmmaker based in Atlanta, GA, who focuses on creating documentary work around Black existence in the South.
How to Disappear Completely
Shot in a sublet in NYC during the summer 2020 uprisings when I wanted to dig myself in a hole so that no one could look at me ever again.
Cameron A. Granger is Sandra's son & came up in Cleveland, Ohio. Inspired by the rigorous archival & homemaking practices of his grandmother, Pearl, Granger uses his work as a means to quilt his communal and familial histories, redacted by Empire, into new, not just potential, but inevitable futures.
"Kites" is an experimental film about prison abolition, and imagining a prison free future. Based on an original poem about children fabricating kites from discarded prison uniforms, visualized in the film by suits made of paper.
Allen-Golder Mullin Carpenter (b. Washington DC 1999), more commonly know as Allen-Golder, is a black gender queer interdisciplinary artist, designer, writer, and activist whose work focuses on black anthropology, history, and personal identity.
A Few Things I'm Beginning to Understand 
This film is a true labor of love. Created in the isolation of the pandemic, Matthews uses fragmented form and innovative visuals to assess issues of anti-blackness through the intimate lens of young love.
Xenia Matthews is an innovative film and visual artist whose work explores personal experiences of black womanhood, the body, and the soul externalizing what often only exists internally. Her impactful work has been recognized by Filmmaker Magazine in "25 New Faces" and by festivals like Slamdance, Blackstar, and now Sundance. In the future, she seeks to create immersive installation experiences and is currently working on her first feature film.
Dir. Oluwademilade Omoregie
After drinking a mysterious tea, Johnny is given the opportunity to talk with his late mother. Though the conversation starts off trivial, Johnny learns he must deal with his grief.
Demilade Omoregie is an image maker from NJ, with a focus on Black faces. They focus on capturing the little moments of the human experience.
Godspeed is the story of a young kid wanting to escape the city and the liminal space between who I am, who I was, and who I want to be.
Glenn "Sonnie" Wooden is an artist living and working in Chicago, IL; who is interested in macroeconomics, culture/class, and  Blackness. He received a BA from the University of Iowa and an MFA from the University of Pennsylvania.
Inspired by Rachel Moseley-Wood's essay "The Other Jamaica", Damian Marley's controversial song "Welcome to Jamrock", and juxtaposed views of Jamaica via tourism and marginalized Jamaicans. This short animation uses found film of Jamaica in the 1930s-60s to manipulate the camera's ethnographic points of view.
Nande Walters is a filmmaker and artist from Fort Lauderdale, FL and based in Brooklyn, NY. She is interested in personal documentaries, experimental filmmaking, and writing about marginalized artists and filmmakers.
If It's Nice Play It Twice
Titled after a saying friends he met in Jamaica would say after their favorite Skillibeng song, this is a short documentary film on Nolen's trip to Jamaica in the Summer of 2022 with his grandmother and cousin.
Nolen Scruggs is a New Yorker, an organizer, a fencing coach, a wannabe skater, an urban planner in training at MIT, a photographer and a big brother to 3x little sisters. Sometimes he make films on the side.
We Are Named After Our Ancestors
We Are Named for Our Ancestors is an experimental exploration of internalized racism and misogynoir within the diaspora.
Chassidy David is a multidisciplinary artist and filmmaker who is passionate about creating stories that navigate memory, social cognition, and psycho-cinematics. Her work is deeply rooted in exploring the psychology of suppression and the duality between hyper-visibility and hyper-invisibility.
Coconut is a love letter to Gladys Austin, the filmmaker's grandmother and best friend in his ancestral homeland of Jamaica.
Jard Lerebours is a First generation Jamaican-Haitian filmmaker and poet who creates exploratory pieces in service of celebrating his ancestors and identity. His work has been showcased internationally by Berlin Short Film Festival, Film Diary NYC and most recently The Uppsala International Short Film Festival.
StrangeLongings: TracingTheBlock
Originally created as a gift for the filmmaker's grandmother, Strange Longings, Tracing the Block follows her path to school 56 years ago, from 139th to 147th street, where she grew up in Harlem. Having been away for more than 20 years, the film was not only a gift, but the beginning of a spiritual journey, linking familial stories to tangible locations and breathing a new life into memories shared over Sunday dinners and framed photographs.
Ricky Danielle Ford is a Minneaoplis, MN based filmmaker whose work explores dreams and memories. She is the co-founder of O-22 Collective.
SamKofa is a collection of short films loosely themed around cyclical processes in the making of Black art. The program's name combines Samsara from Buddhism and Sankofa from Ghanaian Twi, to represent the return to Africa as a cycle, and explore connections to the way our ancestors made art.